QNAP TVS-872X

High-performance multifunctional 10GbE NAS featuring M.2 NVMe SSD caching and 4K HDMI output for virtualization and multimedia
QNAP Products
SMB Storage
QNAP Desktop 8-bay NAS/iSCSI IP-SAN, Intel® Core™ i3-8100T 4-Core 3.1 GHz, 8GB DDR4 RAM, 10GbE*1 (BASE-T), 1GbE*2
Intel CoffeeLake Core™ i3-8100T 3.1 GHz 4C, 8GB DDR4 RAM (2 x SODIMM slots, max. 32GB), 8x 2.5"/3.5" SATA HDD/SSD + 2x M.2 PCIe SSD slot, 2 x 1 GbE LAN, 10GBASE-T (10G/5G/2.5G/1G), 1 x PCIe 3.0 x 16 slot + 1 x PCIe Gen 3 x 4 slot, 4x USB 3.2 Gen 2 type-C & type-A, 1x USB 3.2 Gen 1, LCD, 2x PCIe expansion slot, 250W single power supply
Click here to jump to more pricing!

Please Note: All Prices are Inclusive of GST
Package Content
QNAP TVS-872X Storage
1 x 10GBASE-T Ethernet cable
1 x Power cord
Flat head screw (for 3.5" HDD)
Flat head screw (for 2.5" HDD)
2 x M.2 SSD Heatsink
2 x Drive tray keys
Quick Installation Guide
Overview:
Powered by an Intel® Core™ i3 processor, the high-performance TVS-872X NAS features built-in 10GbE connectivity for boosted virtualization performance and streamlined backup and application workflows from multiple workstations. The TVS-872X also supports M.2 NVMe SSDs for cache acceleration, PCIe expansion, multi-cloud backup, 4K HDMI 2.0 output and real-time transcoding, alongside expandable storage capacity and feature-rich apps to perform as a cost-efficient, reliable, and multifunctional NAS solution.
Available Models
TVS-872X-i3-8G-
Intel® Core™ i3-8100T quad-core 3.1 GHz processor,8 GB memory (1 x 8 GB)



5-speed 10GBASE-T RJ45 connectivity accelerates virtualization, intensive file access, large backup/restoration tasks, and media transfer.

Dual M.2 PCIe Gen 3 x2 NVMe SSD slots enable cache acceleration or SSD storage pools for improved performance.

A business-class backup center supporting backup/restore of cloud data and VMs (including Google™ Workspace, Microsoft 365®, VMware® and Hyper-V).

PCIe expansion allows for 2.5/5/10/25GbE network cards, QM2 card, QXP storage expansion cards, or graphics cards.

4K media playback and real-time transcoding; display multimedia content saved on the NAS via HDMI 2.0 (4K @60Hz) output.

Host multiple virtual machines and containers to run a wide range of applications and services.
Features:
Quad-core 3.1 GHz processor with up to 64 GB memory
The TVS-872X adopts an Intel® Core™ i3-8100T quad-core 3.1 GHz processor with dual-channel DDR4 memory (expandable to 64 GB) to tackle heavy multitasking workloads. AES-NI encryption support boosts encryption performance to secure NAS data without impacting overall system operations.
---
Build a budget-friendly 10GbE environment
The TVS-872X has two Gigabit ports and one 10GBASE-T Multi-Gig (10G/5G/2.5G/1G/100M) port for high-speed networking to satisfy bandwidth-demanding applications (including virtualization, massive file transfer, high-speed backup/restoration, and multimedia transmission). QNAP's managed and unmanaged 10GbE switches are a perfect match for organizations to build budget-friendly high-speed networks for productive team collaboration. The TVS-872X also include four USB 3.2 Gen 2 ports with up to 10Gb/s transfer speeds, allowing compatibility with newer, faster USB drives/expansion enclosures for transferring large media files.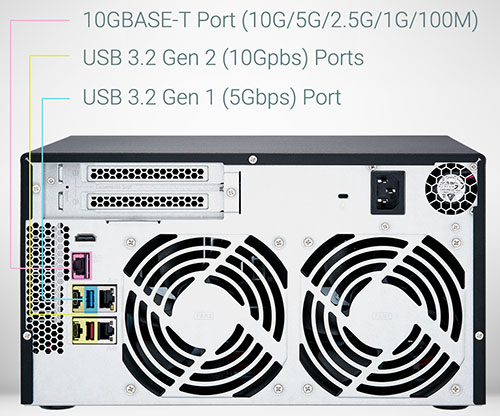 ---
Get performance benefits from SSD caching and Qtier Technology
To attain optimal I/O and reduce latency, you can configure SSD caching by using either 2.5-inch SSDs or two M.2 NVMe 2280 SSDs (sold separately) in the TVS-872X. Extra M.2 SSD slots can also be added by installing QM2 PCIe cards, allowing you to configure your M.2 SSDs in a RAID 5/6 array to achieve higher sequential speed or a read-only cache speed similar to the performance of a RAID 10 array while maintaining high storage efficiency.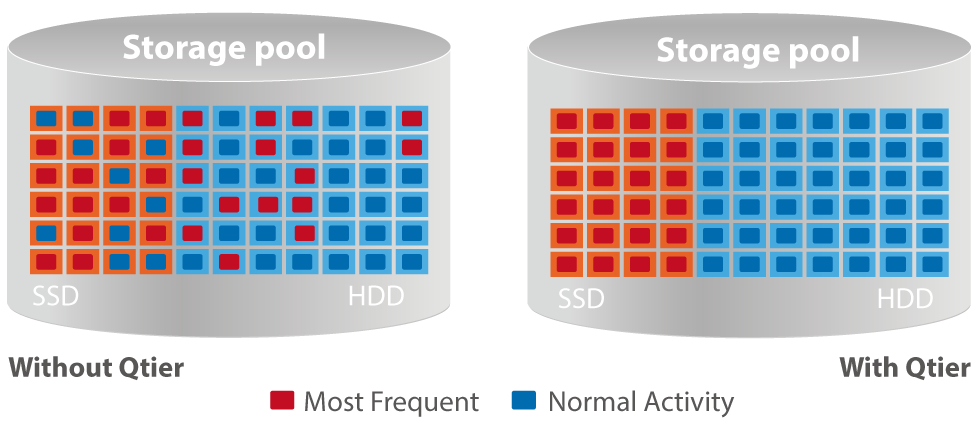 SSD over-provisioning
(Over-provisioning)
SSD cache acceleration
Qtier for auto-tiering
Add additional SSD over-provisioning to avoid write amplification and improve SSD random write speeds and endurance. You can potentially attain enterprise-grade SSD performance levels from affordable consumer-grade SSDs!
Enables SSD caching for increasing IOPS performance and reducing latency for storage volumes. This is perfect for IOPS-demanding applications including databases and virtualization.
Qtier Technology drives auto-tiered storage with continuous data optimization across high-performance SSDs and high-capacity HDDs based on access frequency. I/O-Aware Qtier can reserve a cache-like space in the SSD tiered to handle burst I/O in real time.
---
Abundant I/O capabilities with PCIe expansion
The TVS-872X has two PCIe Gen 3 slots that allow for installing various expansion cards for expanding application potential.
2.5/5/10/25GbE network card
Enable lightning-fast throughput for bandwidth-demanding tasks (virtualization, massive data transmission, fast backup/restore).
QM2 card
Adds M.2 SSD caching or 10GbE (10GBASE-T) connectivity to the NAS for optimize performance and bandwidth.
Wireless adapter
Install a QXP-W6-AX200 Wi-Fi 6 wireless adapter to turn the TVS-872X into a wireless NAS. Or make the TVS-872X a wireless access point by installing the QWA-AC2600 wireless adapter and the WirelessAP Station app.
Graphics card
Install a low-profile, entry-level graphics card to supercharge your video editing and transcoding, or enable GPU pass-through to virtual machines.
---
Direct 4K HDMI output for multimedia and virtual machines
The TVS-872X features Intel® UHD Graphics 630 that supports hardware decoding and real-time transcoding*. The HDMI 2.0 output supports up to 4K (3840 x 2160p) @60Hz, providing great benefits for applications like video production/editing or industrial design that demands high resolution and color realism as well as intensive media storage, transfer and display. By connecting the TVS-872X to an HDMI display, you can operate virtual machines from Virtualization Station or Ubuntu Linux Station, or directly watch multimedia content saved on the NAS. QNAP's HD Station also allows users to directly enjoy multimedia using HD Player or third-party players like Plex® Home Theater.
*The TVS-872X's hardware provides H.264 hardware decoding, encoding and transcoding capabilities. However, playback quality may vary due to factors (including playback software, file formats, system usage, and available bandwidth).
---
Protect your data with higher security
The TVS-872X is loaded with comprehensive security features to keep your data safe.
QuFirewall for network security: Supports IPv6, firewall access lists, and GeoIP filtering to restrict access upon the geographical location for higher network security.
WPA2 Enterprise: Provides enterprise-grade wireless security for business networks, including certificate authority, encryption key, and enhanced encryption/decryption.
Security Counselor: A security portal that checks for weaknesses and offers recommendations for enhancing NAS security. It also integrates anti-virus and anti-malware scanning software.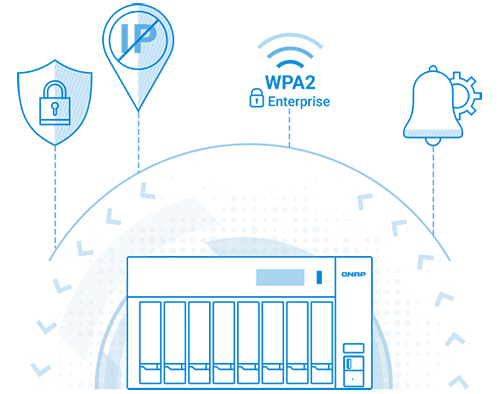 ---
A secure file center supporting regular backups and snapshot protection
The TVS-872X provides a reliable, flexible backup and disaster recovery solution to simplify routine backup jobs cost-efficiently and with high productivity.
HBS simplifies 3-2-1 backup plans
HBS centralizes backup, restoration, and synchronization for easily backing up Windows® and Mac® data and transferring data in the TVS-872X to another QNAP NAS, remote server, or cloud storage space. HBS supports QuDedup technology that eliminates redundant data at the source and makes multi-version backup faster.

Snapshots multiply backup protection
Block-level snapshots are dependable data protection methods, especially in the face of growing ransomware threats. The TVS-872X supports up to 256 snapshots per volume/LUN, and up to 1,024 snapshots per NAS.
---
All-in-one virtual machine and container hosting solution
You can count on Virtualization Station and Container Station for comprehensive virtualization support. Coupled with the Network & Virtual Switch app that boosts interoperability between virtual machines, containers, QNAP NAS, and other networked devices, you can flexibly allocate physical and virtual network resources to simplify network deployment.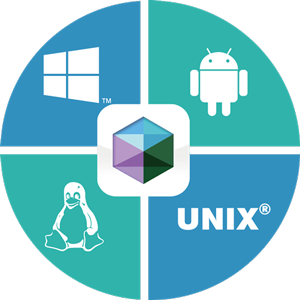 Virtualization Station
Run multiple Windows®, Linux®, UNIX®, Android™, and QuTScloud virtual machines and access them via a web browser or Virtual Network Computing (VNC). Businesses can run virtualized server applications on a single NAS without the need for additional physical servers.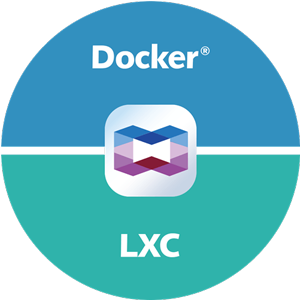 Container Station
Experience LXC and Docker® lightweight virtualization technologies, download apps from the built-in Docker Hub Registry®, import and export containers, and create abundant microservices.
---
License-free VMware® and Hyper-V backup appliance
With Hyper Data Protector, the TVS-872X becomes an agentless backup tool for unlimited VMware® vSphere and Microsoft® Hyper-V VM backup. Hyper Data Protector features incremental backup, global deduplication, backup scheduling and recovery compression. Hyper Data Protector also simultaneously backs up multiple VMs, providing you with a cost-effective and reliable disaster recovery plan, ensuring 24/7 operation of your services.
---
Optimized collaboration with seamless file sharing and sync
The TVS-872X centrally stores data and files, and supports SMB/CIFS, AFP and NFS protocols for file sharing across Windows®, Mac®, and Linux®/UNIX® networks. Coupled with the Qsync utility, any file uploaded to the TVS-872X will become available for all linked devices (such as computers, laptops and mobiles). You can sync shared folders and team folders for group file sharing to enhance the flexibility of team projects and collaboration. The support of Azure Active Directory Domain Services (Azure AD DS), Windows AD® and LDAP services assist system administrators in managing user accounts and permissions for multiple NAS devices with greater efficiency.
---
Build an affordable Fibre Channel SAN environment
Common Fibre Channel Storage Area Networks (SAN) devices are often costly. By installing QNAP dual-port 16Gb/32Gb Fibre Channel expansion cards in the TVS-872X, you have more budget-friendly options to add a NAS to a SAN environment. You can set a Fibre Channel Target using the iSCSI & Fibre Channel app. Moreover, the LUN Masking and Port Binding features provide an additional layer of data security.
---
More productivity-boosting applications

Ubuntu Linux Station
Run Ubuntu® applications (including apps from the Ubuntu Software Center) directly on the NAS and remotely access the Ubuntu® desktop from a web browser.

Security Counselor
Consolidates all QTS system events, alerts, and notifications for smooth and easy NAS management, keeping you always informed of your NAS status.

Boxafe
Safeguard enterprise cloud data by backing up/syncing files, emails, calendars and contacts from Google™ Workspace and Microsoft® Office 365® to the NAS.

Qsirch
QNAP's powerful, Google-like search tool helps you quickly find images, music, videos, documents, and emails by keywords, color, and more search conditions. It also supports Qfiling to perform one-time or automatic archival tasks based on your search criteria.

QuMagie
An AI-powered photo management app, supporting automated photo categorization with AI Albums, iOS® Live Photo display, and powerful search tool for ultimate photo management and sharing solution.

HybridMount
Integrate the NAS with mainstream cloud services. By deploying cloud storage gateways and enabling local caching on the TVS-872X, you can seamlessly use the cloud for storage, backup, and data recovery with low-latency access.
---
Flexible and economical storage expansion
The storage capacity of the TVS-872X can be expanded using USB-based expansion enclosures or connecting SATA 6Gb/s JBOD units with the PCIe-based QXP storage expansion cards. NAS storage expansion management is made easy with the user-friendly Storage & Snapshots Manager app.
---
Switch operating systems for optimal data integrity and reliability
The TVS-872X also supports QuTS hero - QNAP's ZFS-based NAS operating system. Providing end-to-end data integrity, data reduction (inline data deduplication, compression and compaction), and much more, QuTS hero uses additional system resources to ensure an optimal environment for protecting business data.
Note:
QTS and QuTS hero use different file systems. You must remove all the drives from the TVS-872X before switching from QuTS hero to QTS.
QuTS hero requires a NAS with at least 8 GB memory.
Inline Data Deduplication requires a NAS with at least 16 GB memory (at least 32 GB memory is recommended for optimal performance).
It is recommended to create an SSD RAID with at least two SSDs for the QuTS hero system drive to attain optimal system performance. Please note that M.2 SSD hot-swapping is only supported by M.2 SSD slots on PCIe cards (such as the QM2). M.2 SSD slots that are built into the NAS do not support hot-swapping.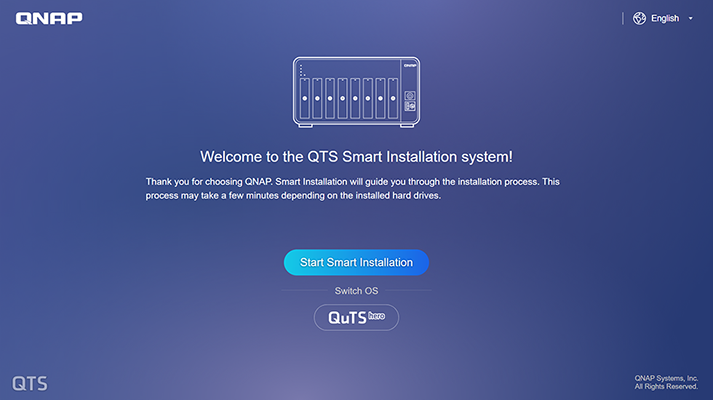 ---
Extend hardware warranty up to 5 years
The TVS-872X is backed by a 2-year warranty at no additional cost. You can also purchase a warranty extension that extends your warranty coverage up to 5 years.
Hardware Specifications:
TVS-872X-i3-8G
CPU
Intel® Core™ i3-8100T 4-core 3.1 GHz Processor
CPU Architecture
64-bit x86
Graphic Processors
Intel® UHD Graphics 630
Floating Point Unit
Encryption Engine
(AES-NI)
Hardware-accelerated Transcoding
System Memory
8 GB SODIMM DDR4 (1 x 8 GB)
Maximum Memory
64 GB ( 2 x 32 GB)
Memory Slot
2 x SO-DIMM DDR4
Flash Memory
5GB (Dual boot OS protection)
Drive Bay
8 x 3.5-inch SATA 6Gb/s, 3Gb/s
Drive Compatibility
3.5-inch bays:
3.5-inch SATA hard disk drives
2.5-inch SATA hard disk drives
2.5-inch SATA solid state drives

Hot-swappable
M.2 SSD Slot
2 x M.2 2280 PCIe Gen3 x2 slots
SSD Cache Acceleration Support
Gigabit Ethernet Port (RJ45)
2
10 Gigabit Ethernet Port
1 x 10GBASE-T (10G/5G/2.5G/1G/100M)
Wake on LAN (WOL)
Jumbo Frame
PCIe Slot
2
Slot 1: PCIe Gen 3 x16 (CPU)
Slot 2: PCIe Gen 3 x4 (PCH)
USB 3.2 Gen 1 port
1
USB 3.2 Gen 2 (10Gbps) Port
2 x Type-C USB 3.2 Gen 2 10Gbps
2 x Type-A USB 3.2 Gen 2 10Gbps
IR Sensor
(QNAP RM-IR004 & MCE)
HDMI Output
1, HDMI 2.0 (up to 3840 x 2160 @ 60Hz)
Form Factor
Tower
LED Indicators
HDD 1-8, Status, LAN, USB port, M.2 port
LCD Display/ Button
Buttons
Power, Reset, USB Copy
Dimensions (HxWxD)
188.2 x 329.3 x 279.6 mm
Weight (Net)
7.06 kg
Weight (Gross)
9.19 kg
Operating temperature
0 - 40 °C (32°F - 104°F)
Storage Temperature
-20 - 70°C (-4°F - 158°F)
Relative Humidity
5-95% RH non-condensing, wet bulb: 27˚C (80.6˚F)
Power Supply Unit
250W, 100-240V
Power Consumption: HDD Sleep Mode
41.47 W
Power Consumption: Operating Mode, Typical
65.03 W
Tested fully populated with WD10EFRX hard drives.
Fan
System fan: 2 x 120mm, 12VDC
CPU fan: 2 x 60mm blower fan
Sound Level
24.2 db(A)
System Warning
Voice prompts or Buzzer
Kensington Security Slot
Note: Use only QNAP memory modules to maintain system performance and stability. For NAS devices with more than one memory slot, use QNAP modules with identical specifications.
Warning: Using unsupported modules may degrade performance, cause errors, or prevent the operating system from starting.
* Sound Level Test Environment: Refer to ISO 7779; Maximum HDD loaded; Bystander Position; Average data from 1 meter in front of operating NAS. Product images are for illustrative purposes only and may differ from the actual product. Due to differences in monitors, colors of products may also appear different to those shown on the site. Designs and specifications are subject to change without notice.
Pricing Notes:
All Prices are Inclusive of GST
Pricing and product availability subject to change without notice.
QNAP Products
SMB Storage
QNAP Desktop 8-bay NAS/iSCSI IP-SAN, Intel® Core™ i3-8100T 4-Core 3.1 GHz, 8GB DDR4 RAM, 10GbE*1 (BASE-T), 1GbE*2
Intel CoffeeLake Core™ i3-8100T 3.1 GHz 4C, 8GB DDR4 RAM (2 x SODIMM slots, max. 32GB), 8x 2.5"/3.5" SATA HDD/SSD + 2x M.2 PCIe SSD slot, 2 x 1 GbE LAN, 10GBASE-T (10G/5G/2.5G/1G), 1 x PCIe 3.0 x 16 slot + 1 x PCIe Gen 3 x 4 slot, 4x USB 3.2 Gen 2 type-C & type-A, 1x USB 3.2 Gen 1, LCD, 2x PCIe expansion slot, 250W single power supply
QNAP Accessories
Storage Expansion Card
Network Expansion Card
Interface Expansion
Other Accessories
Cable / Transceiver
RAM