QNAP QTS 4.3.4

Advanced Turbo NAS Operating System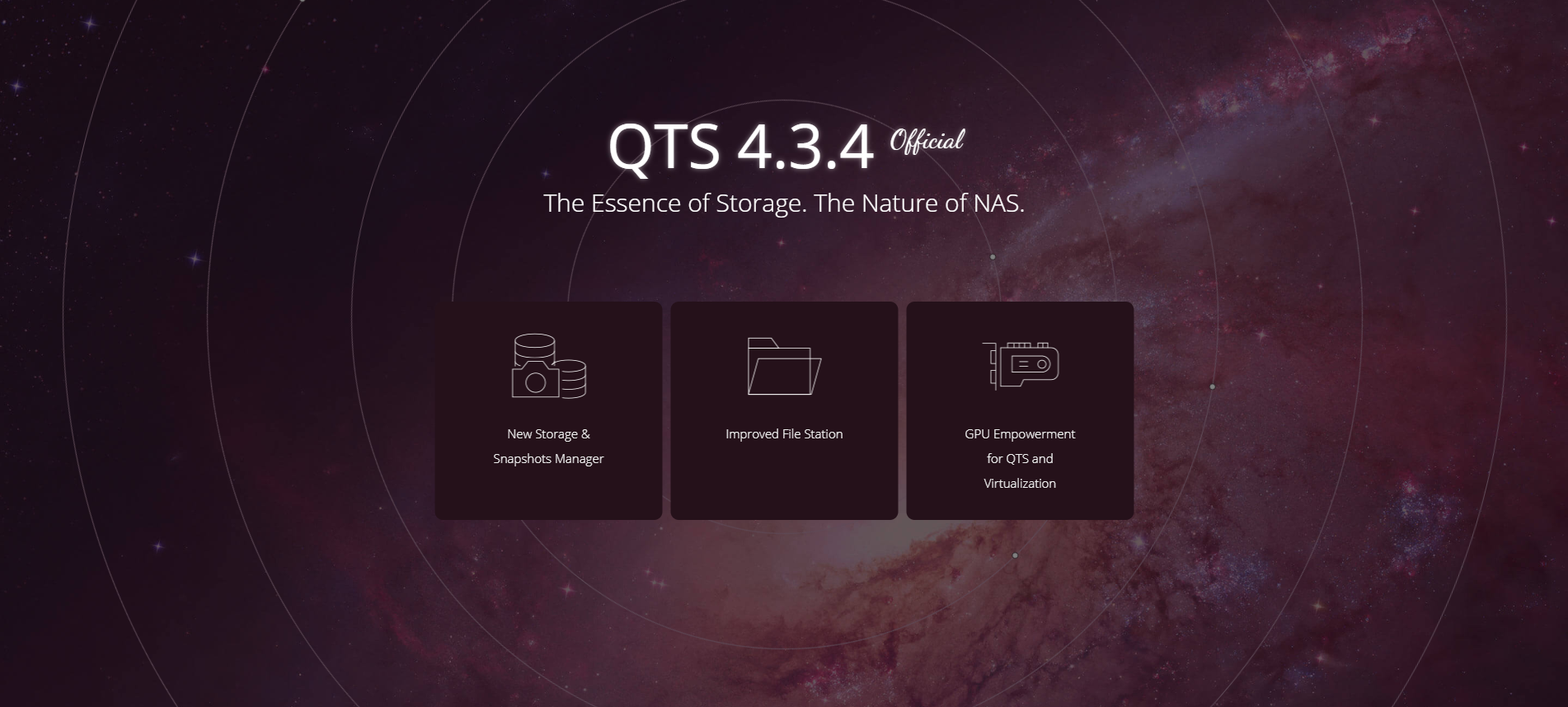 Brand-new Storage & Snapshots Manager
Emphasizes the parallel importance of storage management and snapshot protection
QNAP explored the full spectrum of storage management, and developed the comprehensive and user-friendly Storage & Snapshots Manager. The revamped user interface not only simplifies storage management but also further emphasizes visualized snapshot management with helpful information. With Storage & Snapshots Manager mastering your storage systems and snapshots is much easier.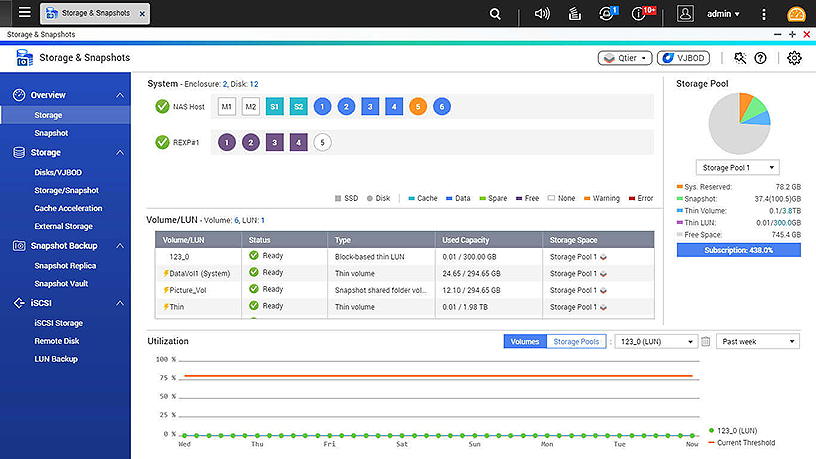 Storage Overview
Quickly obtain the status of all volumes and storage pools at a glance. Now, you can also easily identify the type of each volume and LUN.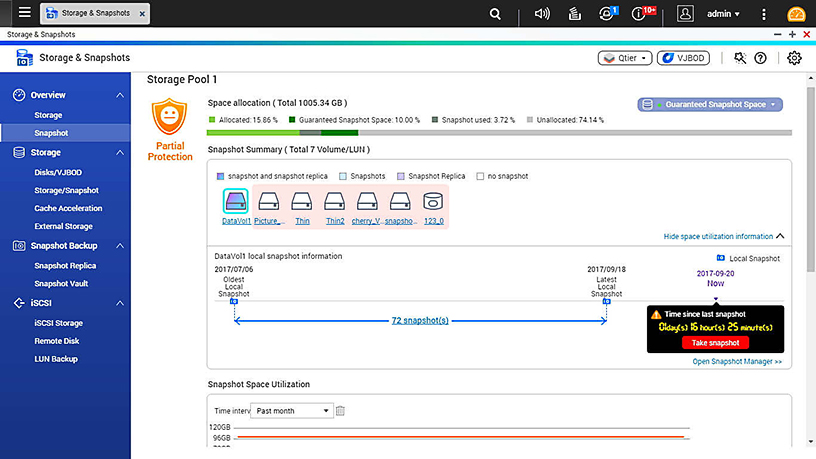 Snapshot Overview
Manage your snapshots with the most professional and detail-driven interface. All the snapshot versions and the time of your latest snapshot are precisely recorded.
New, easier-to-use interface
Storage & Snapshots Manager provides all-inclusive storage and snapshot management - not just simple to use, but more comprehensive than ever.
How to choose the right Volume or LUN
QTS supports various volume and LUN types to meet different application needs.

Static Volume
Static Volumes are created directly on a RAID group. They give the best performance for random file access (up to 20% faster than other disk volumes). This option is suitable for creating high-performance storage spaces for file sharing or online collaboration.

Thick Volume
Thick Volumes are created from pre-allocated storage pool space. The capacity is reserved and expandable. This option is suitable for general usage.

Thin Volume
Thin Volumes can be created with more space than the usable storage capacity, and take physical space from the storage pool only as data is written to the volume. Thin provisioning maximizes storage utilization and is useful for dynamic storage spaces and limited storage shared by multiple users.

Block-based iSCSI LUN
Block-based iSCSI LUNs directly allocate space at the block level. Not only does this increase efficiency but also provides native support for virtualization applications (such as VAAI thin provisioning and storage reclaim and Microsoft® ODX) making block-based LUNs the ideal choice for iSCSI storage solution.
Mitigate the threat of ransomware with block-based snapshots
Snapshots are essential for NAS data protection, providing dependable methods for saving data from the growing threat of ransomware. QNAP's snapshot support is block-based and features copy-on-write technology to indicate the backup file revisions and saves the revisions separately in the file system. This is beneficial for reducing storage space usage and accelerates creating and restoring snapshots compared to file-based snapshots, providing a great tool for meeting business requirements on achieving Recovery Point Objectives (RPO) and Recovery Time Objectives (RTO).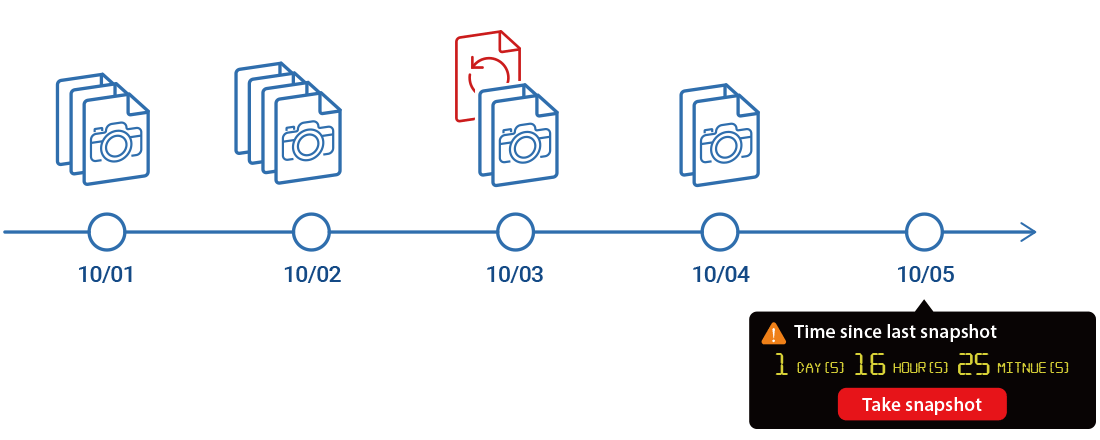 Attain higher cost-efficiency from ARM-based QNAP NAS with snapshot support
From QTS 4.3.4, selected QNAP ARM-based models also support snapshots, providing users with a key data backup and recovery solution. QNAP NAS users can now safeguard their data without compromise, no matter if they are using a high-end, SMB, or entry-level NAS.
Snapshot Application
Competitors that use Btrfs
(S-brand, N-brand)
Other competitors
(W-brand, B-brand)
Block-based iSCSI LUN (Thick Provisioning and Thin Provisioning)
File-based iSCSI LUN (Thin Provisioning)

Protected by volume snapshot, the process is done within seconds.
File-based iSCSI LUN (Thick Provisioning)
Volume (Multiple Folders)
Shared Folder

With Snapshot Shared Folder
Availability
All x86-based (Intel/AMD) models
*ARM-based models
Only available on selected models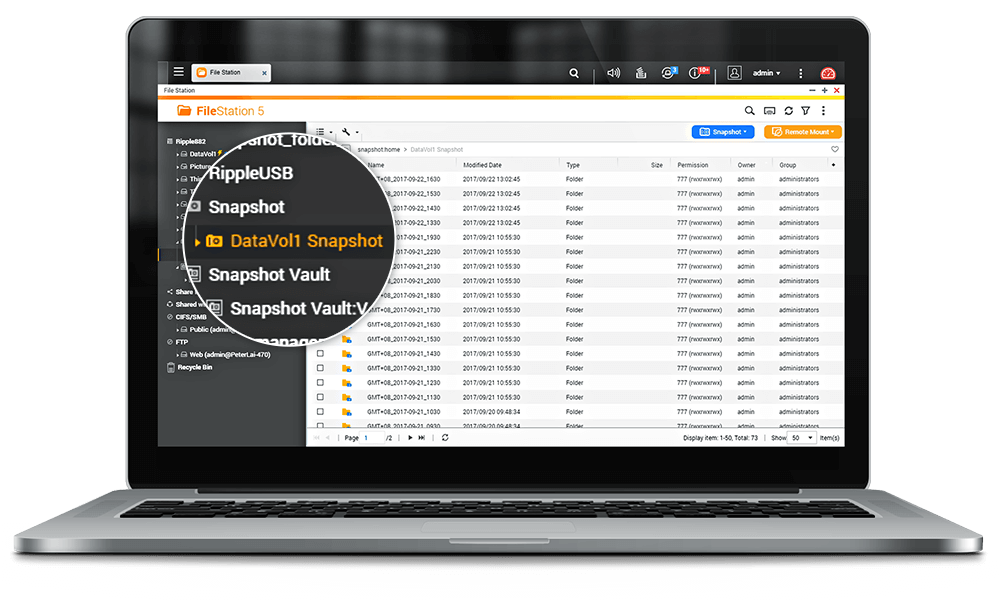 Browse snapshot content in File Station
Besides using Storage & Snapshots Manager, you can also use File Station to browse all of the snapshot versions and identify differing content using the File Station Snapshot Directory.
Restore snapshots locally or remotely

Snapshot restore and clone
Revert the entire volume/LUN in seconds, or clone a volume/LUN snapshot as a volume or iSCSI LUN on a NAS. Restoring specified files and folders is also easy.

Multiple destination
Snapshot content can be quickly restored to the local NAS, or restored on a folder/file basis to a local/remote NAS or cloud storage.

Restore at client side
Users can quickly view the recent snapshots directory in each shared folder via SMB/CIFS/AFP to copy and restore data from snapshots.

Remote restoration
Remote backup and restoration allows double protection for minimal downtime. You can directly restore snapshot backups in a remote NAS to ensure continuity if the local NAS cannot function.
Maximize storage investment with Global SSD Cache Technology
SSD caching helps accelerate IOPS performance. QNAP's global SSD cache acceleration technology can share a single SSD volume/RAID with all volumes/iSCSI LUNs for a read-only or read-write cache. When configuring relevant settings there are no service interruptions, and you can flexibly balance efficiency and capacity needs.
QNAP's global SSD cache acceleration technology is especially suitable for business use.
Competitors
SSD Cache Utilization
Global SSD cache for all volumes/LUNs
One SSD volume or RAID for one volume/LUN
Enabling/Disabling Cache
Service up and running
Service interrupted
SSD Recovery After Hot Plug
(Read-Only Cache)
Service up and running
Service interrupted
SSD Recovery After Hot Plug
(Read-Write Cache)
Service up and running
Service interrupted
All files a glance
Besides reading files on local NAS and USB devices, File Station now supports accessing files from a wider range of external devices, including mobile phones, optical disc drives, and more. You can easily browse and manage files from multiple sources in one place and centralize them to the QNAP NAS.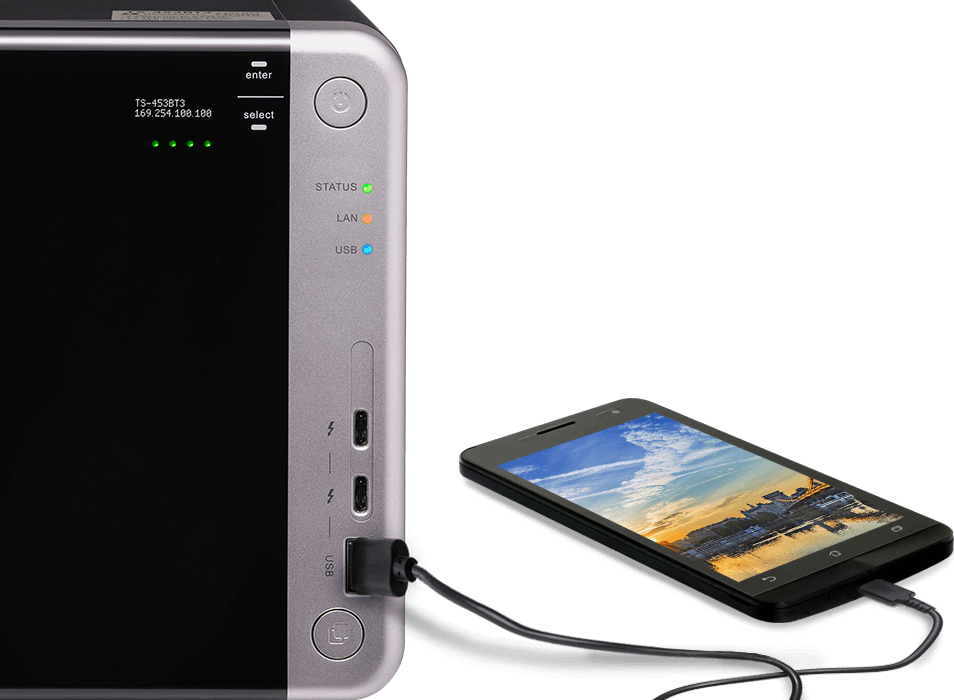 Direct access to files on mobile devices
Direct access via File Station
Simply connect your mobile phone to your NAS using a USB cable to start sharing your mobile data in File Station.
One-touch copy via Hybrid Backup Sync
With Hybrid Backup Sync, press the USB One-Touch-Copy button on your QNAP NAS to back up all the files from your mobile phone to the NAS.
Optimize graphical calculation
You can allocate a graphics card's resources to the following applications:
QTS image processing
Graphics cards empower imaging processing efficiency of QTS, greatly reducing wait times. By utilizing a graphics card, the processing time of HD videos can be shortened by 10-33% (performance varies by NAS models).
HD Station / Linux Station
NAS models that lack native video output can benefit from the HDMI output of graphics cards to view HD Station or Linux Station.
Virtualization Station
GPU Passthrough strengthens the capabilities of virtual machines and provides smoother performance.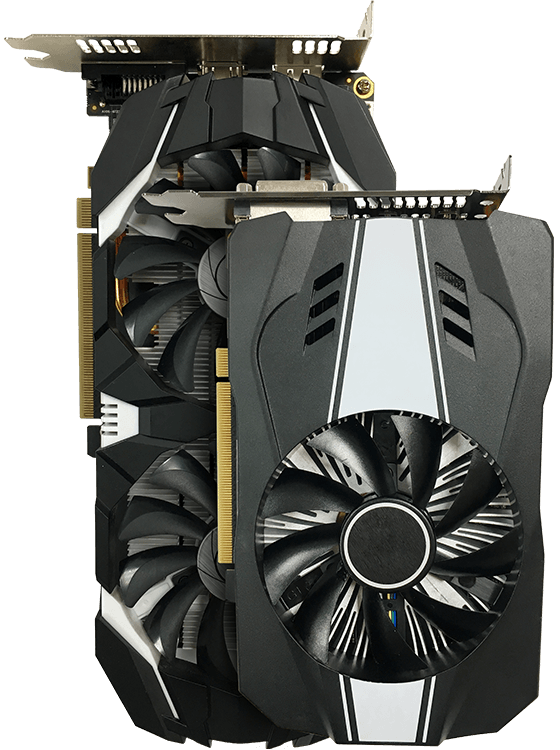 View 360-degree photos and videos
As 360-degree photos and videos enter the mainstream, QNAP adds support for 360-degree Augmented Reality (AR) applications. As long as the video's metadata or the photo's EXIF contains 360-degree data (Projection Type= equirectangular) they will be automatically displayed as 360-degree files. Files without 360-degree data can be turned into 360-degree files by clicking the 360-degree button in File Station, Photo Station or Video Station. Mobile applications such as Qfile, Qphoto and Qvideo also support 360-degree format viewing.

Stream to VLC player
VLC media player is one of the most versatile media players, capable of playing and streaming a wide range of music and video file formats. By installing QNAP's QVHelper on their computers, users can stream media files from a QNAP NAS to VLC player (with Video Station, Photo Station, or File Station) to enjoy greater choice for their multimedia needs.Learn More » QVHelper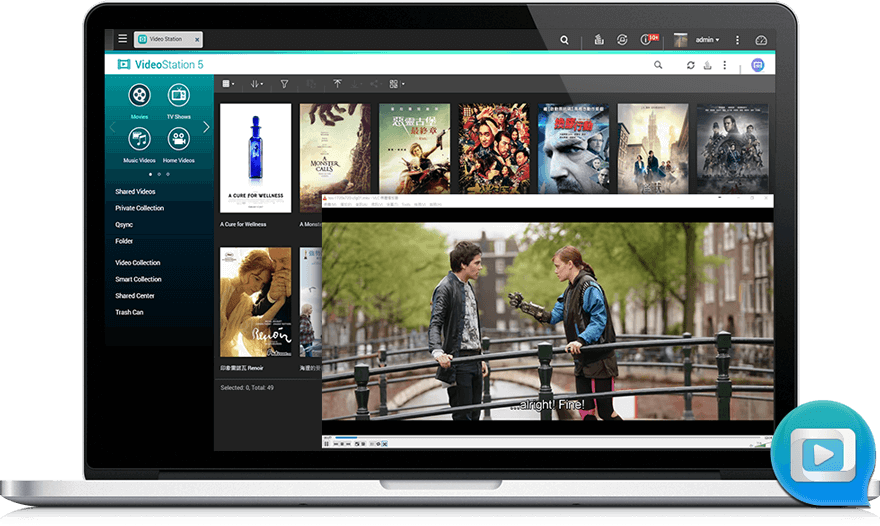 Greater multimedia enjoyment in every corner
Cinema28 turns QNAP NAS into a multimedia hub, allowing for single-interface management of all your photos, music and videos. These media files can then be streamed to every connected device through various protocols: Analog sound (audio only), HDMI, USB speaker connected to the NAS (audio only), Bluetooth® devices (audio only), DLNA®, Apple TV®, and Chromecast™. From the living room to bedrooms, Cinema28 spreads multimedia enjoyment to every corner of the house.